Hudson Hyundai
Part of Hudson Auto Group in Jersey City NJ are crooks!. Don't waste your time. If the deal seems to good to be true.. It is!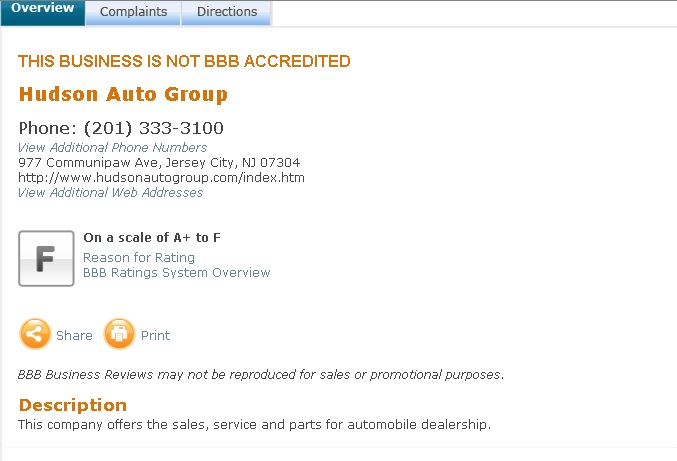 If you visit the BBB at www.bbb.org. check out the F rating they have (under Hudson Auto Group).

I had the unfortunate experience of dealing with Mohammed Ansari. I came in from an internet ad for a 2012 Hyundai Accent GLS with about 10,000 miles. They listed it at $12,999, which was 3K less then other dealers were.

Well I was pleasantly surprised upon my first initial visit to Hudson Hyundai of Hudson Auto Group. It was a pleasant experience.. I test drove the car, and the price was what they were charging online, $12,999....


I told the dealer, Hudson Hyundai, that I could not make a decision that day since the car was not for me, but for my mom.

Next came the sales pressure... "Tell us what we will have to do to earn your business today?" I replied... We are trading a Nissan Sentra from 1999 with about 46k original miles on it.. The body is shot with dents and dings, but the car rides great and we just put a lot of money into it. Next, I showed them on my smart phone the actual pictures of the trade in vehicle (I was not driving the trade in the day I visited) . We zoomed in on the body damage.

I told them that we really wanted 2500 dollars, and if we get a great deal on the trade in, I would leave a deposit today.

The response was:" The car is beaten up pretty bad and we won't sell it anyway.. We will junk it because we cant guarantee it if we try and sell it. We could maybe get you 500 as a trade in value. I said that would not get a deal done.. We needed to get $1,500 or a minimum of $1,000 to make this happen today.

The response was "so if we give you 1K for the sentra, will you sign today?" I said, ok we have a deal and left the deposit.. The plan was to come back three days later to pick up the car with my mom who had to sign the paperwork.

IMPORTANT NOTE- Again, when I visited Hudson Hyundai (who is part of Hudson Auto Group, and Hudson Auto Group is the one with the F rating at the BBB) , I wasnt in the trade in vehicle. They were shown up close pictures of all the body problems.

LETS MOVE TO THE PICK UP DATE on MONDAY.

Mom had made out the check which they accepted, provided a copy of her drivers license, insurance card for the Accent. and Mohammed Ansari left for 5 minutes.. He then returned and said that I had lied about the trade in vehicles condition and that Hudson Hyundai, Hudson Auto Group wouldn't give us the thousand dollars on the trade in .. I started yelling at them and told them that they knew the condition with all the body damage in close up pictures.. Mohammed Ansari continued to blame me and said it was my fault and stated "Who would give you a thousand dollars for that car.. You are not taking responsibility here."

They saw the pictures, body damage and all, and there was no hiding it.. I reminded them that you said you weren't event selling the trade in and were junking it. How on earth can you be blaming me and claiming this is my fault!!

The end results is these guys are scam artists. Everything written on this review is accurate.. Check Cars.com as well and the Better Business Bureau.. These guys dont deserve to have the Hyundai name and are CROOKS.

What happened was that we were at the end of June and they wanted to make whatever number quota they had.. They offered the 1K for the trade in without seeing it.. We already changed over with Geico Insurance and had the Hyundai Accent insured.. Additionally we traveled another 3 hours in traffic to pick up the vehicle. They did the same thing or similar to others.. Claimed it was one price and then pulled a switch at the last minute. They must have thought that we wouldnt argue since we had already traveled so far and switched insurance etc.. and would just pay them more.. Absolutely not, these guys are Crooks and do not deserve to be in business..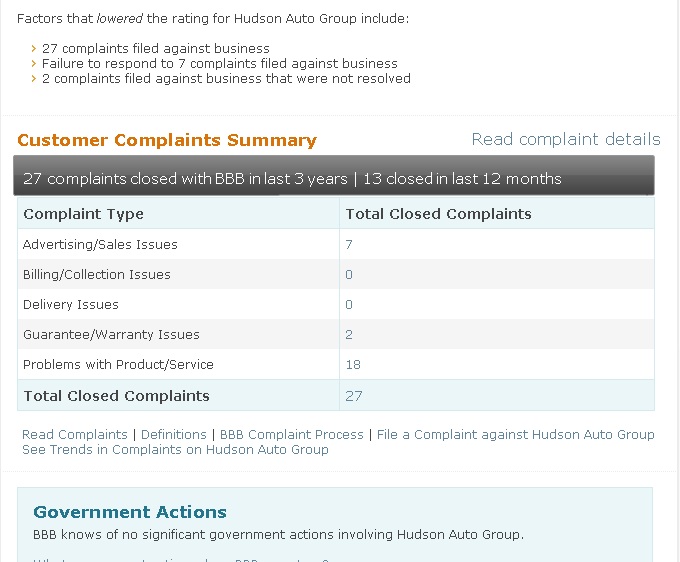 The following comes from YellowPages.com
The following comes from Cars.com